Description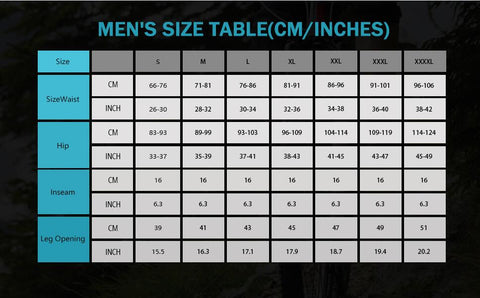 Notice:
Please check out with coupon code "SoukeSports" to get your discount.
Inventory and Shipping time:
We stock in USA, Canada, UK, and EU countries, after place order, we will arrange shipment for you within 24 business hours, and shipment takes around  3~5 business days. For other countries, we will ship from China, which will takes 10~15 days usually.

Features:
Fabric: High quality sports fabric made with 85% nylon and 15% spandex, which is breathable enough for moisture absorption and sweat releasing, also stretchable enough for muscle extension during riding, super comfort to wear.
Padding: 6 layers of high density 90kg/m3 memory foam, which stands up to 100km ride. Breathable and 4 ways stretchable, easing over 90% of the pain during the ride.   
Gripper/Leg Opening: Extra wide 1.8'' gripper which is made of environmentally friendly silicon, stop the leg opening from moving up during the ride.  
Wearing at Any Situation: cycling underwear design can be wearing inside other pants or outside directly. Avoid inconvenience and awkward moment.
Waist Design: extra width of 1.4'' waist band, easing the pressure of your waist during the ride.   


Wash Notice:
- Wash with like colors
- Machine wash up to 30 degrees
- Do not bleach
- Hang to dry
- Do not iron
Payment & Security
Your payment information is processed securely. We do not store credit card details nor have access to your credit card information.
Customer Reviews
Write a Review
Ask a Question
04/26/2021
Hani A.

United Kingdom
Wonderful
I love it, the size is perfect and the material is great
Great Value
Checked out a local bike shop to get some padded (chamois) shorts and immediately left after seeing the price. I initially ordered two of these for testing then ordered another 5 more pairs. I ride upwards of 2 hours a day and was starting to get a bit sore about half way through. These have decent padding, but I do still feel a bit of pressure from the saddle on my sit bones (more adjustments required I think). I've got "thicker" thighs so I would get get bit of chafing/pain after longer rides. These have all but eliminated it. Regardless I got a week worth of shorts for a bit more than a single brand name pair. Time will tell how they hold up but all is good so far. Oh yea, 200lbs, 5' 10.5" XL is a perfect fit! I wear them under workout shorts as I'm not going for the spandex look quite yet :) They do not ride up. UPDATE: Been riding on these for a few weeks and have some thoughts. Maybe I just have a big butt but I wish the padding went a bit further up. The padding is directly underneath me so if I sit up at all I'm directly in contact with the seat. Sure I can hike them up but then the front parts get very uncomfortable due to the padding. I've also washed these multiple times on a delicate cycle and a few of the pairs have been a bit itchy and uncomfortable. Also make sure you pickup a tube of anti chafing cream as I rode once without and it was far worse than shorts and boxers. I think these would be great very short rides or exercise bike use, but anything over a half an hour and I'm pretty uncomfortable. I feel like I was used to my saddle without padding to the point where I could ride for an hour and have only slight discomfort. Perhaps they are not comparable with my saddle or my butt is in fact too big making the padding sit lower than it should. Regardless If you do longer rides I would suggest getting something a bit more expensive.
A Comfortable Fit Makes these Shorts A Must Have For the Bicycle Enthusiast
The Souke Sports 4D Padded Bike Shorts have a firm , snug fit while their ergonomic design ensures a comfortable day in the saddle. The perforated layers of the fabric creates good air flow and ensures moisture evaporation, providing oneself with a cool comfortable riding experience. Give yourself some piece of mind and protect your body from the powerful G-Forces of Bicycle Riding with the cushioned design of the Souke Sports 4D Padded Bike Shorts. These Shorts are a must-have purchase for Cyclists from the Amateur to the Professional Ranks So go ahead and treat yourself to the Souke Sports 4D Padded Bicycle Shorts , and you'll be glad that you did!
Bonne qualit��
Super de bonne qualit�� ! Il respecte ses engagements Super bien super confort