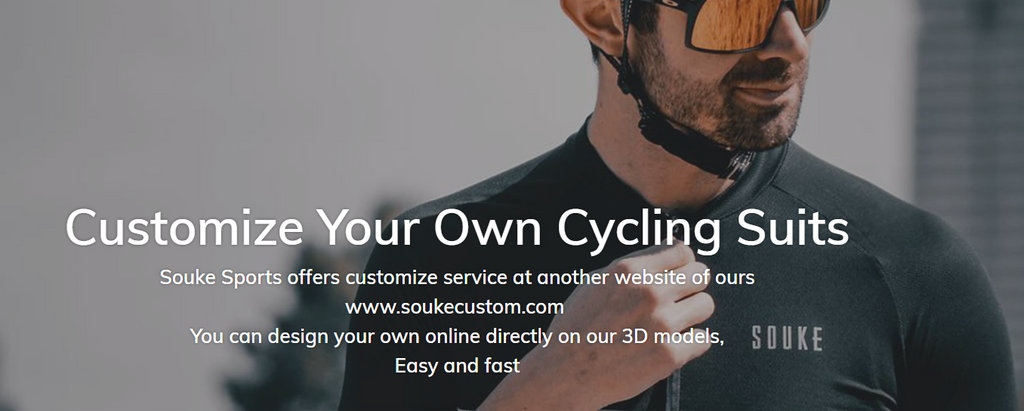 Why Choose Souke Custom
- Semi custom way, let us worry about the cloths pattern and fabric, cyclists just need to focus on the designs and colors he wants to put on the cloths. 
- Easy design procedure, no need to have professional designing skills. Souke custom have its own customize website, on which clients can do their own designs themselves on the 3D model very easily. 
- No MOQ needed. Unlike many factories which might just take big orders, we take small orders as well. Products from mass products might be cheap, but we made all the custom items for you specially. Quality will be 100% guaranteed.
- Fast production and shipping. As the materials and cloths patterns are settled. we can make the items very quick after the order been placed. We guarantee the whole process won't be more than 15 business days. 



Procedure of Design Your Own Cycling Cloths
Choose the specific cycling cloths pattern on Souke Custom website (www.soukecustom.com)----> Click into the product page ---> Click "custom" ---> Design your own cycling jersey or other cloths by adding logo, upload pictures, changing color, etc ---> Choose quantity and size ---> Pay the order successfully ---> We get the order and start produce, taking 7 days at most. ---> Shipping the item, taking 8 days at most ---> Cyclists get the special designed cloths themselves ---> Enjoy riding with your own design, Souke-made cycling cloths


Explore Our Custom Collections 

Pro Collection 

Made with Italy made fabric or customized high end fabric mainly. cloths pattern will be just great for most cyclist. But not as tight as the serious ones.

Max Collection

Max collection are made with Italy fabric, ykk zipper mainly with all the high end materials, The cloths pattern is more tight compared with pro series.

Iron Collection

Iron Collection are made for Triathlon competition mainly. The Fabric are even more light and soft. Bib design is lighter as well. Helping cyclist go more faster.
Contact Us If You Need Any Assistance
If you meet any issue during the customizing procedure, feel free to contact us for help. Send us message through Contact Page or send email to us directly.

Email:
Sheikh: lcworldwide2017@gmail.com
Tina: souke.official@gmail.com